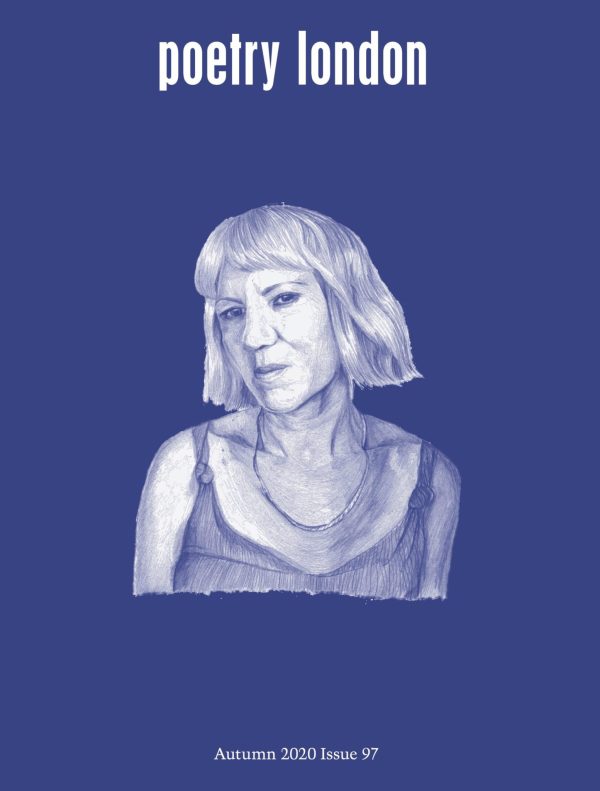 Physical magazine. Includes free UK shipping.
The Autumn 2020 issue contains translations from Filipino and Arabic, poems from American poet sam sax and Zimbabwean poet Togara Muzanenhamo, a long poem by St Lucian–Canadian poet Canisia Lubrin, and new work by Hannah Lowe, Inua Ellams, Fiona Moore, Susannah Dickey, Mark Waldron, Declan Ryan, Gboyega Odubanjo and Sean O'Brien, among many, many others. Newcomers to the magazine include James Giddings and Layla Benitez-James.
The prose in this issue hinges on three exclusive interviews with poets whose new books have been released in the shadow of lockdown. In their conversations with the Poetry London team, Inua Ellams, Rachel Long and Romalyn Ante each, in their own way, talk about the dislocations of the pandemic and the politics of rebuilding society in the aftermath. Be sure to check out the longer online version of the Ellams interview, to see that fascinating conversation spread out beyond its counterpart in the print issue.
Our feature essay, meanwhile, sees Vidyan Ravinthiran reflect on the experience of growing up with a speech impediment, in a memoir that doubles as an acute critical account of poetry driven by experiences of blockage, obstacle and disability. And we have the usual wealth of reviews, covering collections from Danez Smith, Karen Solie, Franny Choi and Sharon Olds, among many other emerging and established voices.
Discover more from this issue…
Contents
Notes
Editorial by Dai George
A Project of Homebuilding
Poems
Togara Muzanenhamo
Mistral
Alizé
Canisia Lubrin
How We Are Astonished
sam sax
A Brief & Partial History
Yerba Buena Gardens, SF
Gboyega Odubanjo
Oil Song
A Reminder to Mind Your Own
Susannah Dickey
Cold war spy with a mouth full of gold fillings
Hannah Lowe
She
Nĭ hăo
White Roses
Layla Benitez-James
Shears
Inua Ellams
Black Seeds and Soil / Roger Casement speaks
Holly Corfield Carr
A man, an animal, a lamina
Mesándel Virtusio Arguelles
Diet of Sex
Dogtooth
Declan Ryan
I'm Working So I Won't Have To Try So Hard
Ghayath Almadhoun
All Roads Lead to Berlin
Mark Waldron
Burn Down
Sean O'Brien
Looking into It
Neetha Kunaratnam
El Dorado
Romalyn Ante
Nadare
James Giddings
No requests
Katrina Naomi
The Field
Fiona Moore
Flower, the smallest, the rarest
Competition
Eleanor Penny
Winter, a biography
Pat Winslow
1971, Northaw
S Niroshini
Letters to Sunny Leone
Notes on Contributors
Reviews and Features

A flint holds fire
Vidyan Ravinthiran on growing up with a speech impediment

Who Language Holds
Bridget Minamore on Danez Smith
Armed with Audacity
Robert Selby on Rishi Dastidar and Sam Riviere

No Fixed Points
Inua Ellams talks to Dai George
The Particulars in Motion
Aoife Lyall on Karen Solie and Vona Groarke
In Search of Home
Helen Calcutt on Jennifer Wong, Marvin Thompson, Mina Gorji and Matthew Haigh
A World so Large, and of Our Own Devising
Jennifer Wong on Theophilus Kwek and Franny Choi

Constant Flux
Rachel Long talks to Ali Lewis
Comma in the General Sense
John Clegg on Rosamund Stanhope
Houses on Fire
Jenna Clake on Jessica Mookherjee, Christina Thatcher and Caroline Bird
The Singing and the Noise
Katrina Naomi on Sharon Olds and Itō Hiromi

Intravenous Lines
Romalyn Ante talks to Ali Lewis
Abandoned Houses
Saba Ahmed on Srinivas Rayaprol and Arvind Krishna Mehrotra