Home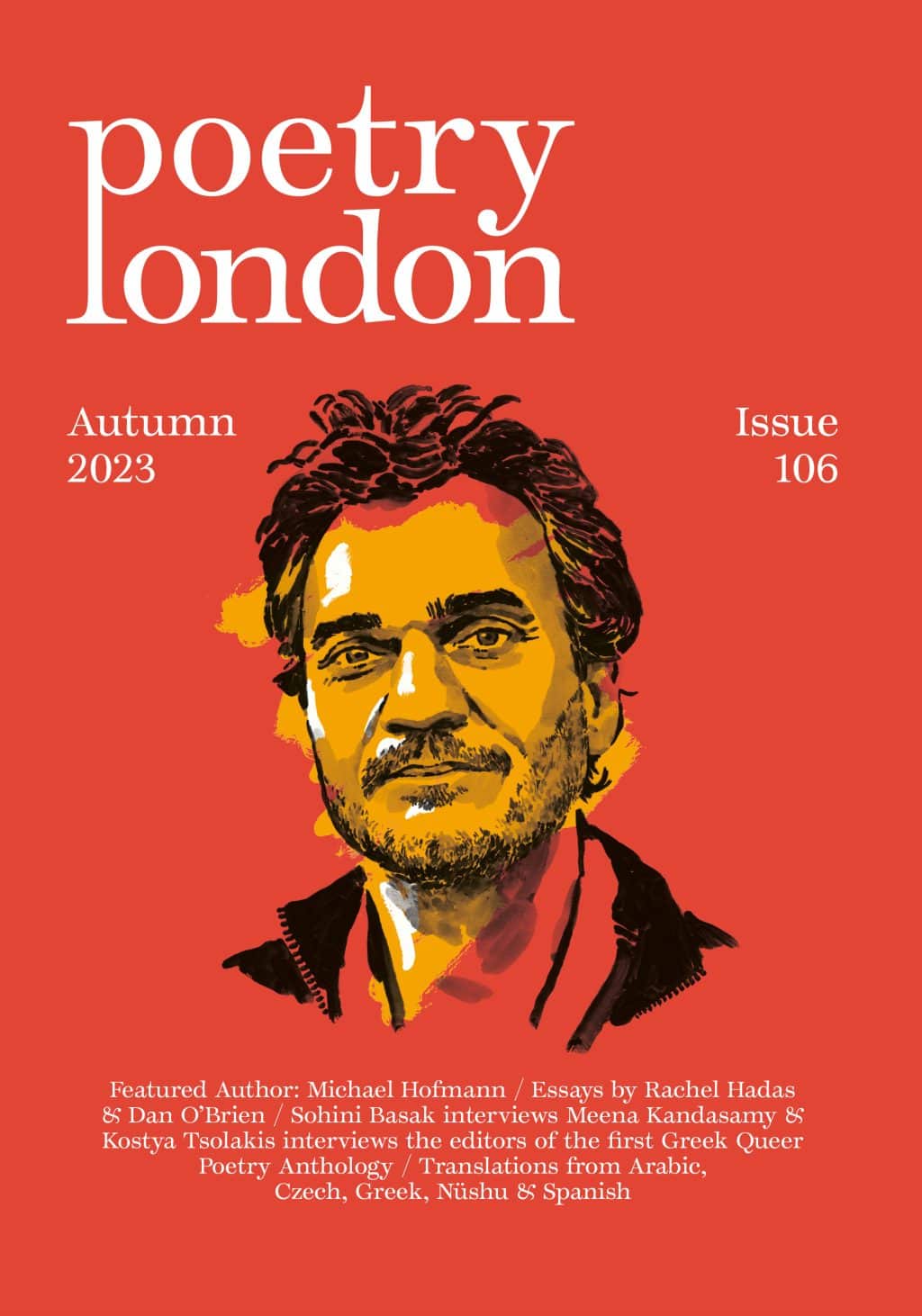 Current Issue
Autumn 2023 • Issue 106
The
Autumn 2023 issue
includes four new poems by featured author
Michael Hofmann
, as well as new work by
Rowan Ricardo Phillips
,
Monica Youn
,
Luke Kennard
,
Glyn Maxwell
,
Cindy Juyoung Ok
,
Jesse Nathan
, and
leena aboutaleb
. Also in the issue are poems originally written in Arabic, Czech, Greek, Nüshu, and Spanish, among which a long-awaited fresh take on 'The Hanging Poem of Imru al-Qays' by
Kareem James Abu-Zeid
and five new poems by
Homero Aridjis
as translated by
Forrest Gander
. This bumper issue also introduces an expanded offering of prose with
Dan O'Brien
on the defiant and redemptive power of confessional writing and
Rachel Hada
s on translating Ovid and finding comfort in a world plagued by apathy and disaster. Our interviews section sees
Kostya Tsolakis
in conversation with
Harris Otabasis
and
Nikolas Koutsodontis
, the editors of the Anthology of Greek Queer Poetry, while
Sohini Basak interviews Meena Kandasamy
. The reviews section sports criticism by
Tarn MacArthur
,
Aliyah Begum
,
Lily McDermott
, and
Tristram Fane Saunders
.
Buy the Autumn 2023 issue
Donate to Poetry London
Be a part of the next 100 issues
To donate, please click on the button below, or send a cheque payable to 'Poetry London' to Poetry London, Goldsmiths, University of London, New Cross, London, SE14 6NW, UK.
Donate to Poetry London today
Sign up to our mailing list
To be kept up to date with our latest news and announcements, click the link below.
Sign up now
Discover
Category:

Vacancies

The Poetry Editor is the executive editor of Poetry London, with overall responsibility for developing and implementing the magazine's editorial content and direction. In addition, the Poetry Editor develops, and hosts events for the magazine, including launches and the annual [...]

Category:

Editorials

I first met Gboyega Odubanjo on 29 January 2019 in the Terrace Bar of the Tate Modern. I had just published his poem 'Confessions in 3/4 Timing' in the pages of Ambit's Winter 2018 issue, having been hired by the [...]
The Poetry London Podcast
The Poetry London Podcast is produced by the team at Poetry London. It is presented by our poetry editor André Naffis-Sahely and supported by Aminata Sow, our production assistant.
Episode 2: Spring 2022
After taking a break last year as we took Poetry London on tour around the UK to celebrate the publication of PL's 100th issue, we're happy to be back with the second episode of the Poetry London Podcast. This episode features readings by poets Chris McCabe, Romalyn Ante, and Eiléan Ní Chuilleanáin.