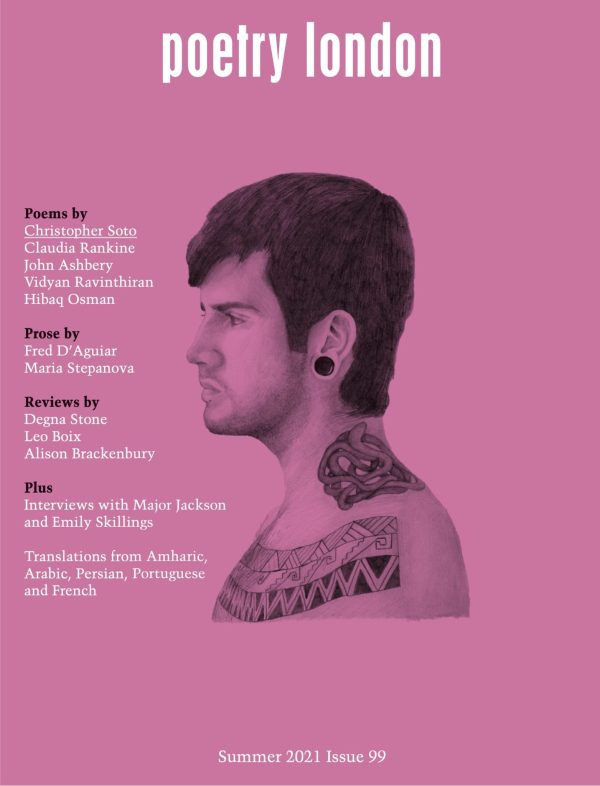 Physical magazine. Includes free UK shipping.
The Summer 2021 issue of Poetry London, André Naffis-Sahely's first issue as the magazine's new editor, features poems by Anne Waldman, Claudia Rankine, Najwan Darwish, Iman Mersal, Vidyan Ravinthiran, Momtaza Mehri, Roseanne Watt and Seán Hewitt, as well as a previously uncollected poem by John Ashbery (1927–2017). Other highlights include translations from Amharic, Arabic, French, Persian and Portuguese and two fascinating interviews. The first is a companion piece to John Ashbery's 'The Quitter', an excerpt from a posthumous book of longer, late-period poems from the Ashbery oeuvre, published for the first time this summer by Carcanet. To accompany this exclusive, our reviews editor Dai George talks to Emily Skillings, the editor of the volume, about Ashbery's unique writing process and the bittersweet task of preparing the book. The issue's second interview is a nourishing, celebratory conversation between Theresa Lola and Major Jackson, focused on Jackson's recent volume The Absurd Manbut panning out to the wider question of how to find joy through poetry in troubled times.
The issue's featured essays are an excerpt from Fred D'Aguiar's forthcoming Year of Plagues: A 2020 Memoir (HarperCollins, 2021) which discusses his Caribbean upbringing and his American life amidst his battle against cancer, the pandemic and the fight for racial justice in the United States, and an excerpt from Maria Stepanova's In Memory of Memory (Fitzcarraldo Editions, 2021), translated by Sasha Dugdale, which was just shortlisted for the International Booker Prize. This issue reaffirms Poetry London's long-standing commitment to internationalism and marks the beginning of a new editorial vision, which will prioritise work that deals with issues of migration, economic injustice and freedom of speech, introducing our audiences to poetry of the highest level that also addresses the most pressing issues of our times. At the head of the issue's reviews is Degna Stone's deep, reflective analysis of a landmark new work, Claudia Rankine's Just Us. Stone unpacks how Rankine interrogates the dynamics of race and power in America while modelling the type of 'honest and vulnerable' conversation that might begin the work of justice. Elsewhere in the reviews section are articles covering new work by poets including Rachel Long, Safiya Sinclair, Robert Selby and Rory Waterman.
Discover more from this issue…
Online Exclusive

'Where Have I Truly Come To?': Sana Goyal retraces the steps of an itinerant poet

Sana Goyal

Category:

Reviews

Online Exclusive

Embracing Vulnerability: Lola Olufemi reads an exciting debut collection

Lola Olufemi

Category:

Reviews

A Strategy of Response: Degna Stone reads a work about race, power and the ethics of conversation

Degna Stone

Category:

Reviews
Contents
Notes

Editorial by André Naffis-Sahely
Najwan Darwish
Let the Journey End Here
Olivia Elias
Barca Nostra, 19 December 2019
Taher Adel
Twelve Million
Nuzhat Bukhari
Spleen
Claudia Rankine
sound and fury
Hibaq Osman
Countdown
Douglas Kearney
Freedom! Freedom! I Can't – (LIVE)
Iman Mersal
I have a musical name
Sarah Lasoye
Nocturne (Sonnet for the Southeastern)
Vidyan Ravinthiran
Lasantha Wickrematunge
Jennifer Elise Foerster
My silhouette, fossil of the drowned town's scroll
Anne Waldman
Conversation with a Visionary Botanist
Christopher Soto
Then a Hammer
Realized Its Life Purpose
Meron Berhanu
The Night Shift
Seán Hewitt
Alcyone
Kevin Opstedal
The Smog's Vibrant Gown
John Ashbery
The Quitter
Adam Green
from 'MDVL: 1,000 Years of Dark Ages'
Ana Cristina Cesar
June 16
Midnight. June 16
Fatemeh Shams
Airport
Jeff Alessandrelli
The Invention of Solitude Begins in Childhood from 'The Leopard Does Not Change Its Spots'
Momtaza Mehri
Thursday, La Manouba
Roseanne Watt
Ganfer
Featured Essays and Reviews

I Wake With His Name On My Tongue
by Fred D'Aguiar
The Jewboy Hides From View
by Maria Stepanova
A Strategy of Response
Degna Stone reads a work about race, power and the ethics of conversation
Time Came For It
Alison Brackenbury on three collections taking the long view
The Ghost Arm of History
Tara McEvoy welcomes four impressive, haunting debut collections
Resistance and Defiance
Leo Boix reviews three poetry collections in translation from Latin America, the US and the Philippines
The Lost Boys
Zakia Carpenter-Hall on the complex dynamics of class, race and masculinity
'Now now is everything'
Maria Sledmere on two maximalist poets of the Anthropocene
Wings in My Hair
Phoebe Power explores three new projects that blur human and insect boundaries
Dust now swirling
Vik Shirley on three collections that navigate death and the afterlife
The World's Touch
Karl Knights salutes three works that expand our understanding of disability and poetics
Exquisite Decreations
Phoebe Clarke reflects on two contrasting modes of ecopoetry

Shouldn't we all be quitters?
To accompany this exclusive extract from John Ashbery's Parallel Movement of the Hands, Dai George talks to the book's editor, Emily Skillings

Unreasonable Dreams
Theresa Lola talks to Major Jackson about the pursuit of joy