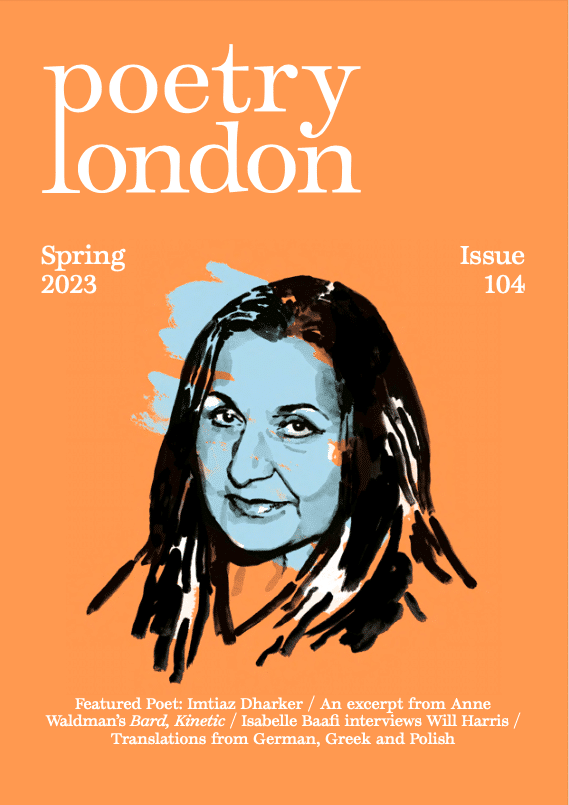 Physical magazine. Includes free UK shipping.
In the Spring 2023 issue, our featured author Imtiaz Dharker gives us a sneak preview of her latest collection, where she tells the story of how a 'Shadow Reader' once predicted her death in 2022, and her experience of living with that prediction. The issue also carries new poems by Karen Solie, Oli Hazzard, Jane Hirshfield, Randall Horton, D.S. Marriott, Qudsia Akhtar, Christopher Merrill, and Eleni Sikelianos, among others. Translations include work by the German poet Ulrike Almut Sandig, the Greek poet Haris Vlavianos, a Scoto-Japanese-Anglo-Sumerian haiku by Robert Crawford, and a poem drawn from the final collection by the late great Polish poet Adam Zagajewski (1945-2021).
Prose contributions include an excerpt from Anne Waldman's Bard, Kinetic, a portrait of her life and praxis as a poet, and an essay by Travis Schuhardt on finding haiku during the pandemic. Elsewhere, Isabelle Baafi interviews Will Harris, while our reviews section engages with new collections by Ilse Aichinger, Rohan Chhetri, Jennifer Elise Foerster, Jane Griffiths, Alycia Pirmohamed, as well as Mary Jean Chan and Andrew McMillan's anthology, 100 Queer Poets.
Discover more from this issue…
Contents
Poems
The Twentieth Century In Retirement

Uncle Napoleon, The Book of Kings

On Mythology

Field Notes on Terror & Beginnings

'Identimem Omnium Ilia Rumpens'

Shadow Reader / Far / In The Year of My Death / saying No / But the Radiance / Everywhere the angels / I Walk in the Shadow

Body, Mind of the Ransacked Thrift Shop

The night I don't think about you

The Hospital Is Not a Place for Bodies

Divinations at the Abandoned Tin-Streaming Works

In Sicily

A Month After The Failed Military Coup

A Julie Mango Ripe with Promise

Junctions

You Are Here

The Vows

Horseshoe / The Snowplow

Queer Studies

Two Hundred Years of Greek Independence

Cherry Tree

UFO

Disenchantment (III)

Postpositivity in Spring

Electronic Text Corpus of Sumerian Literature: Proverbs

Ekphrasis

The Children Are Screaming

Local Muses

Hallelujah sings the choir and I

we were here

The Writer Rings Home
Selected Essays & Reviews
Anne Waldman Prelusion. An exclusive excerpt from Bard, Kinetic Turn Away and Face Me
Isabelle Baafi interviews Will Harris Turn Away and Face Me
Francesca Peacock A Hole in Time's Glove.Three collections whose inventive mythmaking remaps historical landscapes
Ben Philipps Echoes of a Forgotten Song. Three collections that explore the complexities of history and homegoing
James Butler-Gruett Literally Nobody. Three collections that take aim at myths and their misses
Daniel Fraser Ghost Estates. Two collections that examine the aftermath of conflict
Christopher Madden Sense and Sexuality. Three books which reconsider paradigms of queer identity
Travis Schuhardt Broken Silence. On finding haiku during the pandemic