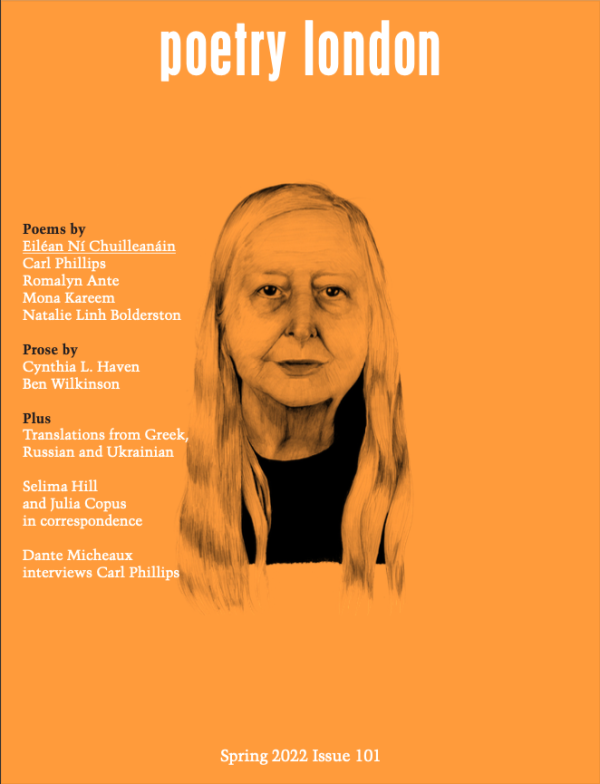 Physical magazine. Includes free UK shipping.
The Spring 2022 issue of Poetry London includes a generous selection of new work by our featured author, Eiléan Ní Chuilleanáin, as well as poems by Romalyn Ante, Natalie Linh Bolderston, Gboyega Odubanjo, Oksana Vasyakina, LeAnne Howe, Mona Kareem, and Robert Selby.
Other highlights include translations from Ukrainian, Greek and Russian and two featured essays, namely Cynthia L. Haven on the California life of the Nobel Laureate Czesław Miłosz (1911 – 2004), who spent over half his life in the Golden State following his escape from Stalinist Poland, followed by Ben Wilkinson's thoughts on Don Paterson's poem 'The Lie', excerpted from Wilkinson's monograph on the acclaimed Scottish poet.
This issue is also privileged to carry two very special conversations: the first sees Dante Micheaux interview Carl Phillips just as the latter, one of the most acclaimed American poets of his generation, publishes his debut volume in the UK, while the second is an exclusive conversation between Julia Copus and Selima Hill, the record of an exchange of snail-mail letters conducted across the spring of 2021. Elsewhere in the issue Nicole Jashapara considers two new anthologies of the poetic responses to the ongoing climate crisis, probing the limits of ecopoetry, while Sana Goyal examines three debuts that explore terror, hunger and belonging across the Arab world.
Discover more from this issue…
'Telling You The Truth, As Best As I Can'. Selima Hill and Julia Copus in correspondence

Category:

Interviews
Contents
Notes
Poems
Carl Phillips The Closing Hour / Troubadours
Dante Micheaux Glasgow
Mona Kareem Dying Like A Statue
Derrick Austin Listening to Björk's Vespertine for Twenty Hours Straight
Natalie Linh Bolderston [deadlink] /[                                ] on Cassette
John Kinsella Argonautica Less than Heroes
Jim Moore Nothing More
Maya C. Popa Les Neiges D'Antan
Adam Kirsch Wildwood
Aaron Kent Hovercraft as a Verb
Gboyega Odubanjo Gun Talk
Eiléan Ní Chuilleanáin Let me explain / War time / What happened next?
Cathy Galvin Ethnology
Gregory Djanikian Without Us
Daniele Nunziata Weather Report, 1974
ko ko thett Child waiters
Marianne Boruch The Heart is Heavy But Not With Blood
Robert Selby Part 1, IV, from The Kentish Rebellion
LeAnne Howe Bethany on Route 66
Miltos Sachtouris The Letters
Rory Waterman Alcoholic Dementia
Vasyl Stus The Lord Has Started Being Born Within Me
Ioannis Kalkounos The Night Shift at the Tolls
Haris Vlavianos A White Brushstroke
James Byrne from Places you Leave [Mexico City – Puebla – Mexico City]
Daniele Pantano Birth Certificate [Counterquestions]
Kathleen Ossip Words on a Monument
Romalyn Ante Agimat
Oksana Vasyakina What I Know About Violence
Featured Essays and Reviews
The Golden Lion in The Room. Dante Micheaux interviews Carl Phillips
'I Did Not Choose California, it Was Given to Me'. Cynthia L Haven on Czesław Miłosz
The War Is Everywhere. Sana Goyal on three debuts that explore terror, hunger and belonging across the Arab world
Enmeshment. Nicole Jashapara on two new anthologies of the climate crisis
Mythical Frequencies. Dominic Leonard on three collections rich with layered histories and music
Instead, Let's Say. Genevieve Stevens on three collections charged with quests, suffering and wonder
Tell Me Lies. Ben Wilkinson On Don Paterson's 'The Lie'
Telling You The Truth, As Best I Can. Selima Hill and Julia Copus in correspondence
Notes on Contributors