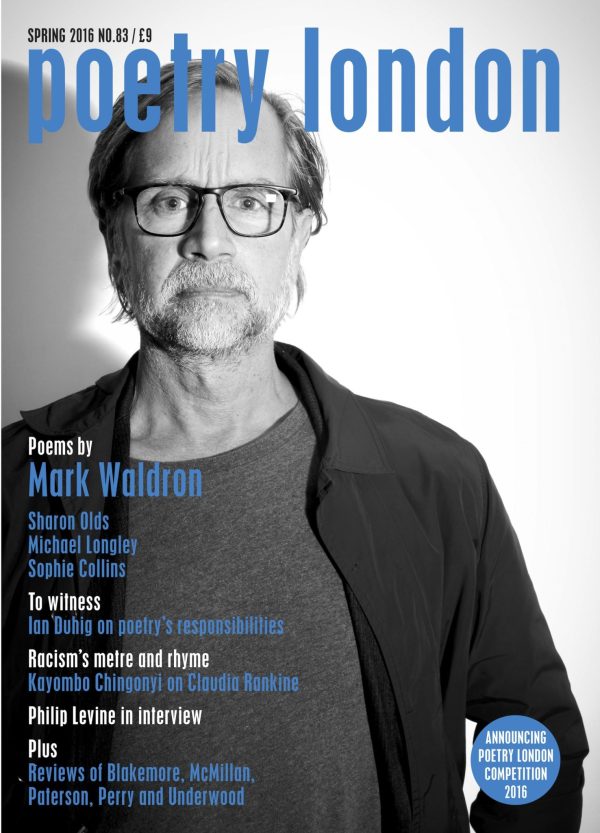 Physical magazine. Includes free UK shipping.
The Spring 2016 issue of Poetry London brings you significant selections of new work from eminent US, UK and Australian poets, including Sharon Olds, Michael Longley and John Kinsella, alongside a feature-length set of poems from Mark Waldron and a new, expansive work from Heather Phillipson. Elsewhere, Liz Berry, Sophie Collins and Martha Sprackland rub shoulders with Mischa Foster Poole and Jacob Polley and we travel from Battersea Bridge, with Annie Katchinska, to Washington State, courtesy of Kris Johnson.
Poetry as a force for change and as a means of expression for the excluded is a recurring theme in this issue's features and reviews section, which opens with a powerful essay on poetry as witness from Ian Duhig and an interview with US poet Philip Levine. In addition Kayombo Chingonyi writes on Claudia Rankine, first collections are reviewed by Luke Kennard and Bill Herbert, Julia Bird explores poetry and comics and there are reviews of Chinese and Japanese poets in translation.
Contents
Notes
Editorial by Tim Dooley, Reviews Editor
Yes, I can
Poems
Heather Phillipson
CHEERS!
Mark Waldron
No Moose
The Shoes of a Clown
So I was at home doing the washing up
A Glib
No More Mr Nice Guy
As though we hoped to be forgiven
Sharon Olds
Reading Philip Hodgins at 40,000 Feet
Phobia of Red
Liz Berry
from Marble Mountain
Luke Kennard
Zombies
Television Knows no Night
John Kinsella
Barnancleeve Gap Erotics
Neolithic Copper Mines: Locations as Marked
Looking Back to Mt Macedon and 'Hanging Rock' from Jam Tree Gully
Jacob Polley
Hemix
The Commission
Fiona Moore
Adam
Kris Johnson
After the Ceremony
We Have Kissed the Four-Legged Gods Goodnight
Menarche
To Please the Gods
Mischa Foster Poole
from Week of Kindness
Sophie Collins
A Course in Miracles
A.S.
Poor Clare
Annie Katchinska
Alice/A great girl like you
Martha Sprackland
Seven Years' Love
Three dreams about a sinkhole
from Love songs to the Shark
Agricultural Ditch
Open House
Michael Longley
Solstice
The Poets
Memory
Woodbines
Reviews & Features
Essay: To Witness
Ian Duhig on poetry's responsibilities
Interview: Honouring the Human
Philip Levine talks to Ahren Warner
Reviews: Racism's Metre and Rhyme
Kayombo Chingonyi on Claudia Rankine's Citizen
Patterned and Paired
WN Herbert on symmetrical first collections by Jack Underwood and Rebecca Perry
Flame in the Skin
Luke Kennard on candid first collections from AK Blakemore and Andrew McMillan
No Apologies
Vidyan Ravinthiran finds Don Paterson, AB Jackson and Kate Bingham unafraid of 'the poetic'
Our Ordinary Story
Siobhan Cambell on Matthew Siegel, Maggie Sawkins and Jo Bell's worldly poetry
Branching Channels
George Szirtes on modernist procedures used by Donna Stonecipher, SJ Fowler and Sophie Mayer
Where Marvel meets Marvell
Julia Bird on an anthology devoted to poetry and comics
Again
Alison Brackenbury on posthumous collections by Martin Richards, Stanley Cook and Ann Atkinson
Walking to Jupiter
Jennifer Wong on the place of the personal for Lan Lan, Wang Xiaoni and Marilyn Chin
The Journey to Words
Chris Beckett & Isao Miura on the life's work of Shuntarõ Tanikawa