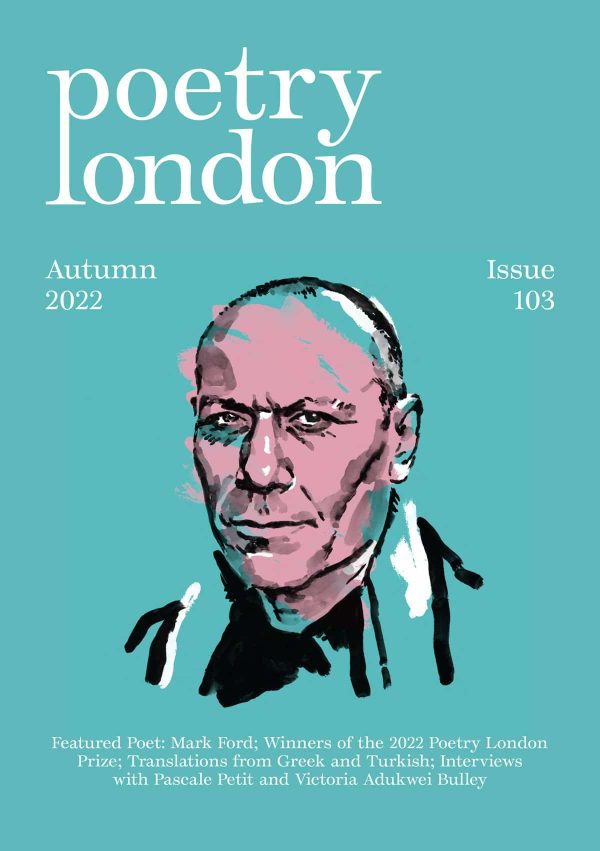 £7.95
Available on backorder
Physical magazine. Includes free UK shipping.
PL103 has been so popular we've sold out! Bear with us, there may be a slight delay in processing orders while we reprint.
Featuring a
wholly new look
, the magazine's first radical redesign in twenty years, the Autumn 2022 issue of
Poetry London
carries a new poem by our featured author,
Mark Ford
, in addition to work by
Katie Peterson
,
Khairani Barokka
,
Bernard O'Donoghue
,
Rachel Mannheimer
,
Oksana Maksymchuk
,
Shash Trevett
and
Jee Leong Koh
. This issue also features the winners of the 2022 Poetry London Prize, judged by
Romalyn Ante
, as well as interviews with
Pascale Petit
and
Victoria Adukwei Bulley
.
Prose contributions include the 2022 Verve Poetry Festival Lecture by
Stephanie Sy-Quia
,
Zoë Brigley
on writing through borderline personality disorder, and the literary influence of Sylvia Plath and Jean Rhys, and reviews by
Stephanie Burt
,
David Wheatley
and
Jennifer Wong
, review collections by Victoria Chang, Paul Tran, Thomas Lynch, Carl Phillips, Claire Askew and Simone Atangana Bekono.
Discover more from this issue…
Contents
Poems
Death of the Young Artist
Digital Mapping of a Massacre / Ambush / Emergency Bag
In the assessment centre waiting room
Woman returns to childhood home, finds herself amongst others
The Teacher and the Student
A Latin American Sonnet XXV
From 'Ungovernable Bodies'
The Story of the Dhaka Cloth
Fear / Blockade / The Plough
Why I don't feed grey squirrels
Selected Essays & Reviews
Portals of Possibility

. Isabelle Baafi interviews Victoria Adukwei Bulley

Seeing is Believing

. David Wheatley on how two poets explore pastoral imaginations, the life of the senses and the language of faith

Companions in Melancholy

. Stephanie Burt on two collections that explore the lasting impact of trauma and grief

Mother, Refracted

. Jenna Clake on two collections that capture the shades and contours of motherhood

A Vibrant Tapestry

. Arun A.K. reviews an essential new anthology of contemporary Indian poetry

Permutations of Desire

. Carlos F. Grigsby on seven Latin American poets in translation

Under Observation

. Karl Knights on two attentive collections that explore experiences of hospitalisation and the politics of care

Women Writing Back

. Jennifer Wong on two texts that dramatise defiance against the politicisation of women's bodies

Verve Lecture 2022

. Stephanie Sy-Quia

Out of the White Room

. Zoë Brigley on writing through borderline personality disorder, and the literary influence of Sylvia Plath and Jean Rhys

I Have To Have Hope

. Romalyn Ante interviews Pascale Petit