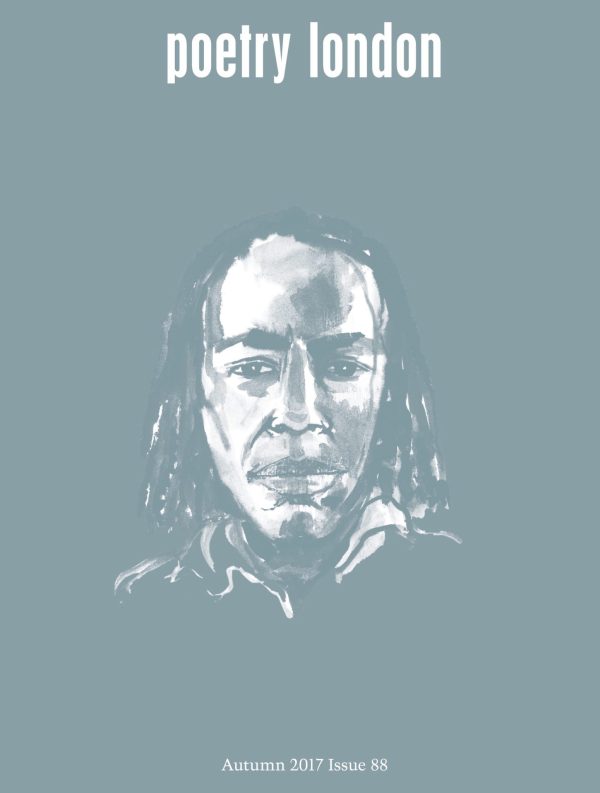 Physical magazine. Includes free UK shipping.
The Autumn 2017 issue of Poetry London offers substantial new poems from Oli Hazzard, D S Marriott, Nuar Alsadir, Nisha Ramayya and the celebrated American poet Linda Gregerson. The issue presents several names new to the magazine's poetry pages, including Nick Makoha, Laura Seymour and Drew Milne. Established voices such as Susan Wicks, Jane Draycott and Sean O'Brien are joined by newer talents Chloe Stopa-Hunt and Declan Ryan. Ailbhe Darcy, Fiona Sze-Lorrain and Hannah Lowe strike new notes in their work.
In the Reviews and Features section, Sandeep Parmar, writing with Bhanu Kapil, explores the lyric self as 'a way towards', Sophie Robinson and CAConrad discuss poetry as the creation of an honest and open space, and Chloe Stopa-Hunt welcomes a new anthology of D/deaf and disabled poetics. Plus reviews of two Poets Laureate of Jamaica, translations from Latin America, the idiosyncratic music of Clark Coolidge, and more. Subjects include ekphrasis, recuperative techniques, poetry that gives rise to fandom, and kale.
The issue also includes the prizewinning poems from this year's Poetry London Competition, judged by Liz Berry.
The poems and essay in this issue were guest edited by Sarah Howe, the reviews and interview by Sam Buchan-Watts.
Contents
Notes
Editorial by Sarah Howe, Guest Poetry Editor
Our rubble-strewn hearts
Poems
Oli Hazzard
Augurs
Underscore
Laura Seymour
Rock elevator
D S Marriott
Murking (after Stormy)
Eskimo (after Wiley)
Ailbhe Darcy
Seizure
Drew Milne
Crottle Song
Chloe Stopa-Hunt
The Proposal
Hiding My Face
Rue Saint-Jacques belongs to the dead
Nisha Ramayya
from Thirteen Days After Death
Declan Ryan
Happy Days
Susan Wicks
Wind
Jane Draycott
The Experiment
Hannah Lowe
The Trucks
Sean O'Brien
A Closed Book
Nuar Alsadir
To Betray (Unwrap)
Fiona Sze-Lorrain
To Suffering, to Liberation
Linda Gregerson
Sleeping Bear
Nick Makoha
Pass

Competition

Liz Berry: Judge's Report
Richard Scott: Crocodile
Jack Houston: Cages
Katherine Pierpoint: The memory-foam pillow
Reviews & Features
A Frozen Present
Lyric Violence, the Nomadic Subject and the Fourth Space
Sandeep Parmar with Bhanu Kapil
Deja-vu Friend
CAConrad in conversation with Sophie Robinson

Who Will Bear This Pain with Me?
Chloe Stopa-Hunt on Stairs and Whispers, an anthology of disabled and D/deaf poetics
Making Images Material
Jess Cotton on Ágnes Lehóczky, Shivanee Ramlochan and Miriam Neiger-Fleischmann
Never to be Formed
Will Harris on Yang Lian
Rosetta Stone Jigsaws
Kit Buchan on Daljit Nagra, Chrissy Williams and Pauline Stainer
Keep on Looking
Martha Sprackland on The Other Tiger, translations from Latin America
Let My Flesh Blaze to Yours
Alison Brackenbury on André Naffis-Sahely, Amaan Hyder, Ellen Cranitch and Miriam Nash
Sonic Kaleidoscope
Jeremy Noel-Tod on Clark Coolidge
Away from Aboutness
Calum Gardner on Aisha Sasha John, Nuar Alsadir and Tara Bergin
Who Ate Hemlock Seeds
Emily Hasler on Sinead Morrissey and Richard Osmond

Metaphors of the Spirit
Shara McCallum on Mervyn Morris and Lorna Goodison